Feedback des Monats

Liebe Erika,
herzlichen Dank für den großartigen Tag bei dir.
Wir alle fühlen uns bei dir gut aufgehoben und wir sind uns sicher, dass dies ein super Weg ist.
Da wirkt jetzt noch einiges nach und wir freuen uns auf die nächsten Schritte.

Liebe Grüße,
Günther

- Günther Klement – Managing Director, CSO -


Unsere Räume zum gemeinsamen Austausch

Organisation & Management Development

Turning your talents into results.

"Be the change you want to see in the world."

M. Gandhi

"Turning your talents into results!"

Kleestorfer Consulting arbeitet prozess- und lösungsorientiert und schafft Klarheit, Verständnis und Wertschätzung im Team

"Internationalität wird groß geschrieben!"

Kleestorfer Consulting vertraut auf ein Netzwerk aus
nationalen und internationalen Expertinnen.
Freude als Antreiber für Erfolg!
Kleestorfer Consulting ist ein österreichisches Unternehmen, das 2004 von Dr. Erika Kleestorfer gegründet wurde. Im Fokus standen seit Anbeginn internationale, interkulturelle und bereichsübergreifende Projekte in weltweiten Großunternehmen. Ziel war es immer, einzelne Führungskräfte, deren Teams und damit auch die Gesamtorganisation zu stärken um die kollektive Intelligenz, Erfahrung und Weisheit freizulegen und ins Unternehmen bewusst(er) einfließen zu lassen.
Kleestorfer Consulting hat sich in einem internationalen Netzwerk etabliert: "Es sind die Kooperationen mit meinem umfangreichen Netzwerk die garantieren, dass wir eine optimale Lösung für den jeweiligen Kunden sowie deren Bedürfnisse und Problemstellung gewährleisten können!" (Dr. Erika Kleestorfer)
Über uns

Wertschätzung, Respekt und Toleranz vor der Einzigartigkeit aller Personen!

Good to know

Live your potential. Kleestorfer Consulting in Szene gesetzt von Media Works, Kalifornien.
Globales Netzwerk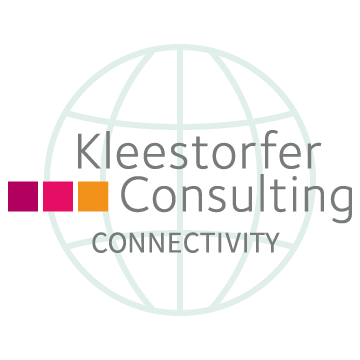 Kanada

Anne Chocquette, M.Sc., PCC

Anne Chocquette, M.Sc., PCC

U.S.A.

Duke Corporate Education

Duke Corporate Education

Von Financial Times and Business Week weltweit als Nr. 1 unter den Anbietern von Business & Leadership Education bewertet.

Frankreich

Ghislaine Caulat

Niederlande

Huib Wursten

U.S.A.

Jane Sommers-Kelly

U.S.A.

J'Lein Liese

Belgien

Karin Verhaest

Deutschland

MayCoach&Co

Grossbritannien

Oxford Leadership

Düsseldorf

Pascale Grün

U.S.A.

Patricia Harmon & Associates

Patricia Harmon & Associates

A global provider of leadership development consulting, executive coaching and custom corporate education
www.patriciaharmon.com

U.S.A.

Pedro Langre

Belgien

R. J. Claessens & Partners

Deutschland

SeminarPartner

U.S.A.

TMC

TMC

Training Management Corporation
Experten für kulturelle Kompetenz
www.tmcorp.com